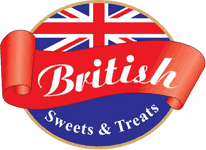 BRITISH SWEETS & TREATS is your British Food Store in Australia.
Order online or visit our store in Bondi Junction, Sydney.
Your shopping cart is empty!
British Sweets
A fine selection of traditional and newer sweets from the best confectionery manufacturers in the world, including Bassett's, Barratt's, Haribo, Maynards, Walkers, Thorntons, Tilleys and Lion Confectionery. Whether you are a "sweet", "candy" or "lolly" person, there is something here for everyone.
With so many to choose from, we have broken the sweets into sub-categories to make navigating easier. The groups are traditional Hard Boiled Sweets (Rhubarb & Custard, Sherbet Lemons), Bonbons & Toffee (think Thorntons and Walkers), Fudge & Nougat, Chews, Gums & Soft sweets (Bassetts Jelly Babies, Wine Gums), Liquorice (Allsorts and Pontefract Cakes), Mints (Everton or Altoids), Nostalgic & Retro (Sherbet Fountains and Flying Saucers), Sours, Sugar Free and finally sweets in boxes, jars and tins for that perfect gift. Enjoy!
Refine Search