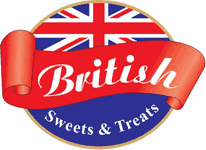 BRITISH SWEETS & TREATS is your British Food Store in Australia.
Order Online for delivery Australia-wide
Your shopping cart is empty!
British Sweets

A fine selection of traditional and newer sweets from the best confectionery manufacturers in the world, including Bassett's, Barratt's, Maynards, Walkers, Tilleys and Lion Confectionery. If you want to buy English sweets, British Lollies, or UK Candy in Australia, look no further as we have every "sweet", "candy" or "lolly" person covered.
To assist in your sweet selection, we have various sub-categories to choose from. The sub-categories are traditional Hard Boiled Sweets (Rhubarb & Custard, Sherbet Lemons), Bonbons & Toffee (think Kingsway and Walkers), Fudge & Nougat, Chews, Gums & Soft sweets (Bassetts Jelly Babies, Maynards Wine Gums), Liquorice (Licorice Allsorts and Pontefract Cakes), Mints (Everton or Altoids, Kendal Mint Cake), Nostalgic & Retro (Sherbet Fountains and Flying Saucers) plus Sours, Sugar Free and finally sweets in boxes, jars and tins for that perfect gift. Enjoy!
Refine Search