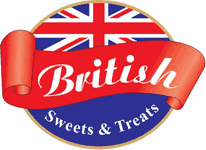 BRITISH SWEETS & TREATS is your British Food Store in Australia.
Order Online for delivery Australia-wide
Your shopping cart is empty!
FAQ's
FREQUENTLY ASKED QUESTIONS
Q:  What payment methods do you accept for orders?
A.  We accept credit cards (Visa, Mastercard), PayPal and direct deposits.  If you wish to use a Credit Card other than VIsa or Mastercard you will need to use the PayPal method of payment.  
Q: How do I place an order?
A:  If you are new to ordering online, it is simple to make a purchase, simply browse through our store and click on the products you would like to order by clicking the "Add to Cart" button. You can simply jump between each of the categories or type in the search field (its at the top of the Home Page) what you are looking for.  Items selected will be collected in the Shopping Cart and once you have finished making your selections, click on the "Shopping Cart" button (appears in green and is highlighted) or click on the Shopping Bag in the top right hand corner to view your shopping cart purchases or proceed to Checkout.  Click "Checkout" to proceed to the next stage where you will be prompted to complete your address details, preferred payment etc.  Postage will be added during the checkout phase and you will be provided with a confirmation email once completed. 
Q:  Do you provide International shipping?
A:  Owing to the high cost of postage from Australia to overseas destinations, international orders cannot be processed online, however if you email us with your destination country, product requirements and quantities, we will send you a quotation for shipping costs.  If you are happy with the shipping costs, we will send you a PayPal invoice to complete the transaction.  Please note all overseas shipping is sent via Australia Post's registered post or international express post services only.
Q:  Can I order over the phone or via fax?
A:  Yes and No.  We can help you with phone orders however we no longer use a fax machine.  Our phone number is: 1300 793 910.  Alternatively, email us via our 'Contact Us' page.
Q:  I live in the UK and would like to place an order for my daughter living in Australia.  Can I do this?
A:  Yes, you can.  We are happy to accept orders from overseas for friends and family living in Australia.  Simply ensure that the recipient's details are correctly entered in the 'Delivery Address' section and we will take care of the rest.  If you would like us to send a message with the order, please advise in the 'Special Instructions' area.  Please note that the postcodes in Australia are 4 digits only.
Q:  Can I order products that are not listed on your website?
A:  Yes, you can.  Please email using the enquiry form on the 'Contact Us' page and we will let you know if the product you are looking for is available along with the purchasing and shipping costs.  Please note that Australia has some very strict import regulations so products that are commonly available in the UK may not be allowed into Australia.
Q:  If a product is not listed on the website, can you order it for me?
A:  We will do our best to source the product you are looking for but as we need to order in bulk, a minimum order may be required before processing and a depending on the product a deposit or payment in advance, may be required.  Some products may be subject to customs and quarantine restrictions but we will let you know if we are able to assist. 
Q:  Why do you have some products showing as 'Out of Stock'?
A:  We always try to maintain a reasonable level of stock but owing to shipping times and availability of some products from overseas suppliers, we occasionally run out.  To be cost effective and ensure that the products we do sell are within their 'Best Before Date' period we have to balance the quantity of stock on hand with customer demand.  Occasionally we get the calculation wrong, or demand is higher than anticipated so you may need to wait to complete an order.  If however, we have a similar product of equal value available, we will send as a replacement to complete the order. 
                                                                                                                                
Q:  When do you debit my credit card for an order? 
A:  Credit cards are debited as soon as the order has been completed.  Should there be any issues with the order, we will contact you and if necessary, refund your card for any missing items or adjustments required. 
Q:  What happens to my personal information and credit card details once I have placed an order?
A:  Customers' personal information is not sold, rented or made available to anyone or any organization outside British Sweets & Treats.  We do keep customer names and addresses on file but only for use within our company.  We may send out newsletters or sales promotions to the addresses on our customer listings however we will happily remove any name from our mail list at the request of the recipient. 
 
Q:  How do you ship the orders?
A:  We use Australia Post eParcel and Australia Post Satchels to ship orders.  For urgent orders, an Express Post service is available at an additional cost.  For overseas orders, we use an International Express Post or International Registered Post service only.
Q:  How do you pack the orders?
A:  In an attempt to save the environment and minimise packaging costs and wastage, we recycle the boxes and packaging we receive whenever we can.  For customers who specify the order is a gift, we can provide gift boxes and/or gift cards at an additional cost (refer to Hampers under Categories for available options).  
Q:  When do you ship the orders?
A:  We endeavour to ship orders within 24-48 hours of receipt of the order (Monday to Friday) however during warmer weather we will usually wait until Monday before processing any chocolate orders so that the products are not left sitting in a warehouse over the weekend.  In the event that some of the items ordered are not available, we will either wait for the missing goods to come in before shipping the order or, if they are not due for a while, we will notify you by phone or email advising you of the fact and seek further instructions.  If we have a similar product in stock which is of similar value, we will ship the replacement product.
Q:  Is there a minimum order requirement?
A:  Yes, our minimum order is $35.00.  This means that the products in your shopping basket will need to total $35.00 or more, and then the delivery costs will automatically be added at checkout.  Our online ordering system has been programmed to not accept orders under $35.00. 
Q:  Are you able to track the delivery of orders and what happens if something goes missing?
A:  We are able to track your order if sent using Australia Post's eParcel and Express Post Satchel service and you will receive an email notification of the tracking number once your order has been despatched.  If however, you would like your order to be shipped using Australia Post's registered post service (which provides a nominal insurance cover) please advise in the Special Instructions section on the order form (an additional fee of $2.00 will be added to your order for this service).
Once an order has been lodged with Australia Post we rely on their completing the delivery and in the rare event that something goes astray, we cannot be held responsible for lost parcels however we are happy to liaise with Australia Post to resolve any problems.
Q:  What happens if my order is damaged during transit?
A:  All orders are securely packaged and in good condition when they are despatched and we cannot be held responsible for damage which occurs in transit due to environmental conditions or the carrier's actions however if you do have a problem, please contact us immediately as we may be able to assist.  It is also useful to take photo's of any damage to packaging and products so we can pass on to the carrier responsible.
Q:  How accurate is the nutritional and product information provided?
A: While every care has been taken to ensure that the information provided is correct, food products are constantly being updated and reformulated so nutrition content and ingredients may change. We therefore recommend that you always check product labels.  Where dietary information is important to you, e.g. for allergy or specific dietary requirements, you should always contact the individual manufacturers directly and not rely solely on the information within this website.
 
If you have a question, which has not been answered above, please email us and we will get back to you as soon as we can.